Olam Brazil: A reference point for growth with purpose
For a second consecutive year, Olam has been recognised by Great Place to Work (GPTW) as one of Brazil's best employers. In the 2020 rankings, Olam Brazil ranked fifth among all large agribusinesses in the country – an endorsement of the professional career environment we seek to create for our 1,500 people working across 11 states.
We spoke with President & Regional Head of Latin America, Sathyamurthy Mayilswamy (Satya), and Vice President of Human Resources - Latin America, Cesar Salinas (Cesar) to discuss how Olam Brazil's staff grow together with the business, now a leader in crops including coffee, cocoa, cotton, grains and black pepper.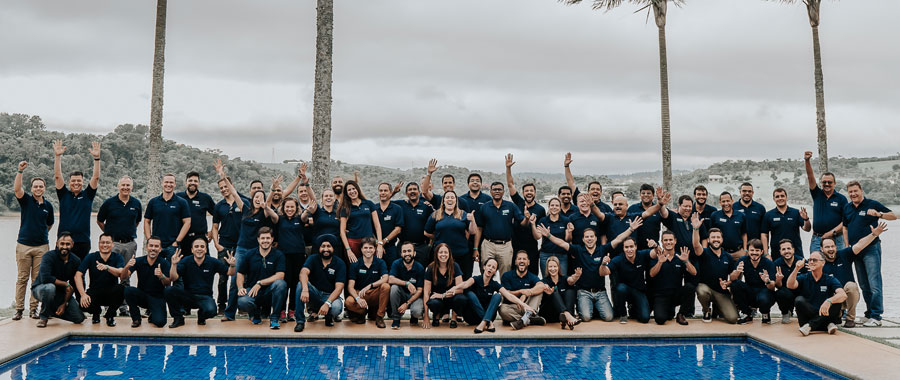 What is Olam getting right as an employer in Brazil?
Satya: Brazil holds a special place in Olam's history as one of our first Latin America operations, which started in 2002. People join us because we are a reference point as both a responsible and profitable agribusiness. 
There is a growing demographic in Brazil with a strong social conscience and our purpose of Re-imagining Global Agriculture and Food Systems, to produce food that is better for farmers, communities and our planet, which we live every day, resonates deeply with them. 

From a business perspective, our team is energised to be part of a leading yet still growing company. We are leaders in Brazil for coffee, cocoa, cotton, grains and black pepper, and are succeeding in other businesses including risk management financial services and structured financial operations, supported by a strong corporate office.
Cesar: Our employees respect the fact that we consider them first as our fellow 'Olamites'. They know that we are constantly looking out for their development and welfare – in terms of the working environment, career pathways, and the collegiality we try to create. We are fully committed to improving our diversity and inclusivity; for example, 21% of our managers are women, well above the industry average of 13%. We will keep on pursuing this agenda to provide equal and attractive careers opportunities for women. 
Is there anything particular about the Olam Brazil approach that you believe generates positive energy within the team?

Satya: Brazil is a dynamic market and that is reflected in the Olam workplace. It is cliché to say that our most important asset is our employees, but it is fact for Olam; we do all we can to make them feel proud to work here. Respect and impartiality underpin all our policies and procedures but a unique sense of camaraderie also cuts across Olam Brazil. Our doors are open for anyone to talk with anyone.
Cesar: We also walk the talk on encouraging personal development. Olam offers employees who display good performance with financial assistance for their educational pursuits. Anything based on an agreed "individual development plan" that can assist an employee in gaining skills critical to a current role or to a future position. 
But you also draw on your global practices and resources don't you? 

Cesar: There are obvious benefits to being a part of Olam International. Drawing from the experience and processes developed from operating across 60-plus countries means we have effective toolkits and resources to supplement what works best for our local context. For example, we have our adapted a Portuguese version of "the Olam Way" workshop, where we spend two days delving deep into our heritage, strategy, values, culture and our purpose. This is a rite of passage for all employees to become a true Olamite! 
Is Brazil a particularly challenging market?

Satya: Brazil is a really competitive environment across all industrial and services sectors. The "war for talent" in its agriculture sector is especially intense as it contributes to 22% of GDP and 40-42% of exports. Some of our peers in Brazil have been around for more than 100 years. Not only is the competitive landscape tough, but so is attracting and retaining talent which requires a differentiated strategy.
We have a great team but, of course, it is a challenge to maintain standards across 11 states and 32 locations spread across in one of the biggest countries in the world and an agricultural powerhouse. That is why being recognised by GPTW is important because it demonstrates a consistency across the country and across our businesses. It indicates that we have the right people in the right places; that is what you need to meet the challenges of any market.
How do you help employees achieve that important work/life balance? 
Satya: As part of our values, we give Olamites ownership and do not monitor their activities from minute to minute. We trust our people, and this automatically empowers them to organise, perform and excel without compromising on work-life balance. Apart from employee-friendly practices, we are always open to new ideas and are flexible in making each employee's work experience highly valuable, enjoyable and long-term focused. 
Cesar: It can be quite simple; for example, when someone has an important personal commitment, such as medical appointments or children's school meetings, they only need to inform their manager that they need to be away. We are also flexible about when employees reach and leave work, which, in big cities like São Paulo with unpredictable traffic, is highly appreciated. 

We have had a home office policy in our offices since 2019, which has allowed us to have a quick response to COVID-19.
What's next for Olam Brazil as an employer? 
Satya: The Olam way is to empower and challenge employees to imagine extraordinary answers to the world's everyday food supply needs. So, in terms of 'what's next', it's always about helping employees fulfill their own ambitions within growing our global business and positively influencing the world around us. As an employer, it is an honour to be seen as so productive a contributor to a sector that is so vital to the world. The challenge is to be better tomorrow than we are today. Our Purpose of "Reimagining Global Agriculture and Food Systems" is a guiding post for this exciting journey.
×
×